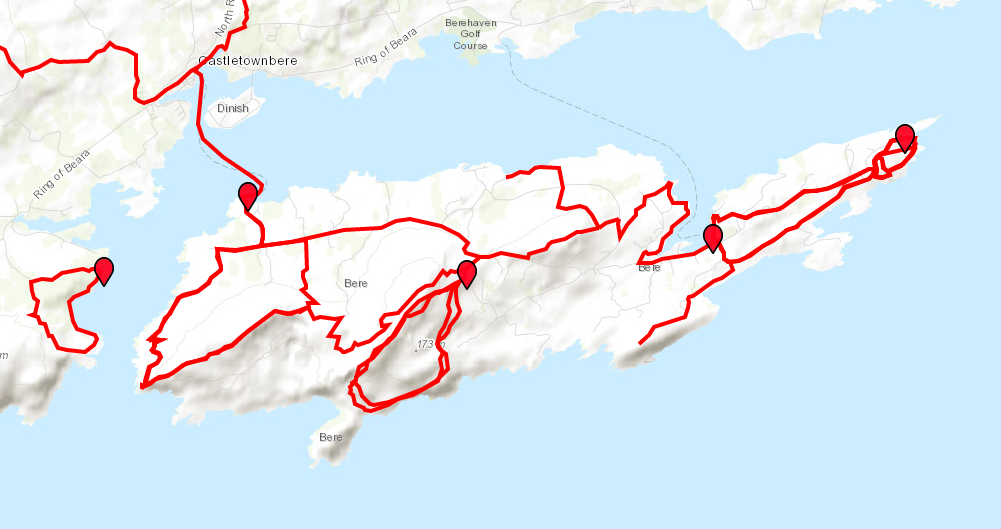 Length: 19km
Estimated Time: 7-8hrs
Terrain: Varied
Level of Difficulty: Varied, with easy ambles along country roads to hills which are more suited to the experienced walker. Opportunities exist to shorten the walk dramatically.
Starting Point: Either Ferry point
Sights: Stretches from East to West of the Island, taking in many of the Island's heritage sites.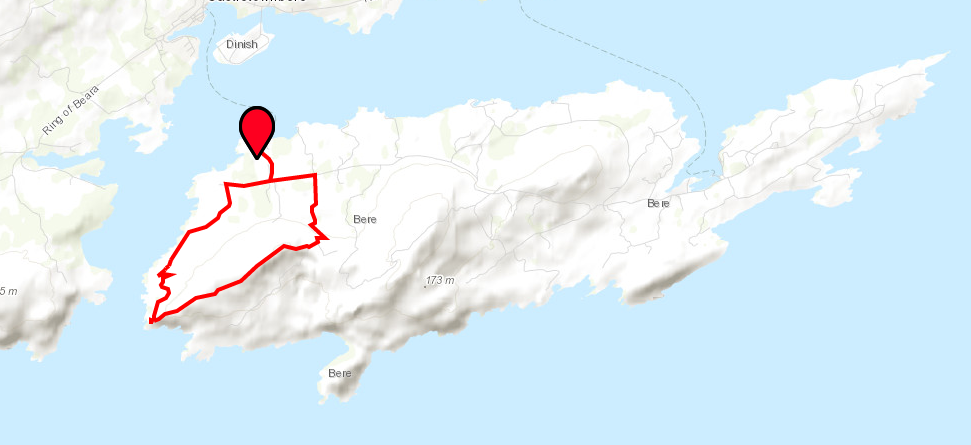 ArdnaKinna Lighthouse Loop
Length: 11km
Estimated Time: 4-5hrs

Terrain: Varied, including some difficult rugged sections.
Level of Difficulty: Moderate to difficult
Starting Point: West End

Waymarking:

Purple arrow
Sights: The track heads west and then south on an old military track. Ardnakinna lighthouse is in itself a must-see on Bere Island. There was originally a beacon built here in 1850, with the present lighthouse lit in 1965. The rugged track to the lighthouse along the coastline provides stunning views back onto the mainland, whilst the area around the lighthouse provides a perfect picnic spot with views of Sheep's Head, the Mizen, and west to Dursey Island.

Lat. and Long.

51.63886, -9.89924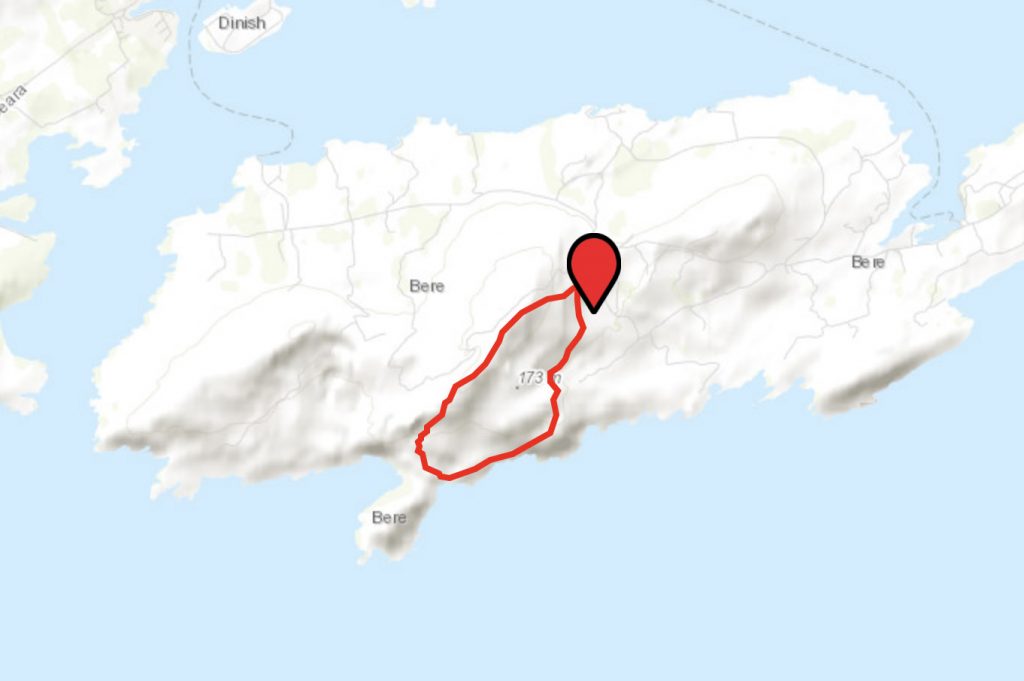 Length: 5km
Estimated Time:  3

hrs

Terrain: Varied, some steep sections
Level of Difficulty: Moderate to difficult
Starting Point: Middle of the island, just south of the Gallán (standing stone)
Waymarking: Orange arrow
Sights: This takes in beautiful views to the south of Sheep's head and the Mizen peninsula.
Lat. and Long. 51.63054, -9.861676
Length: 6 km, although can be shortened

Estimated Time:

 2-3hrs

Terrain: Flat, predominately along the road
Level of Difficulty: Easy to moderate
Starting Point: East End (Rerrin) ferry point

Waymarking

Purple arrow
Sights: This route encompasses several sites of historical importance, including the British fortification at Lonehort. It also takes in views of Martello towers, Ardaragh Wedge tomb, and a Viking breakwater. This is essential viewing for the military enthusiasts.

Lat. and Long.

51.63443, -9.81939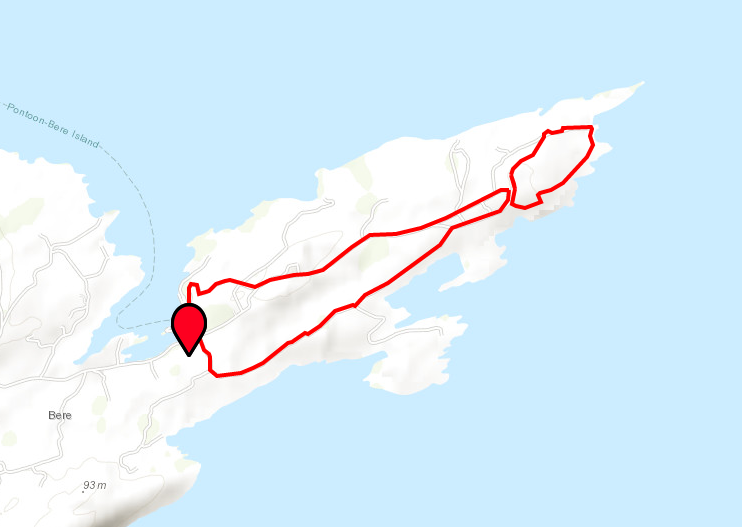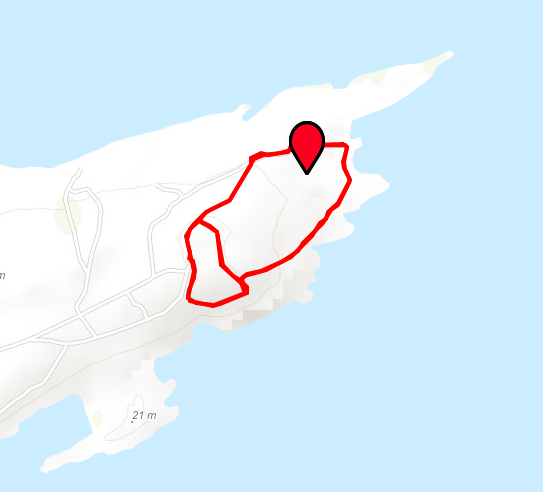 Length: 2km
Estimated Time: 30 mins
Terrain: Flat on grass
Level of Difficulty: Easy

Waymarking

Brown finger signs
Starting Point: Lonehort Battery, in the eastern end of the island. This walks adjoins the Rerrin Loop.
Sights: Walk around the perimeter of the large, moated Lonehort Battery which contains two 6″ coastal artillery guns.  

Lat. and Long.

51.6450995, -9.7865069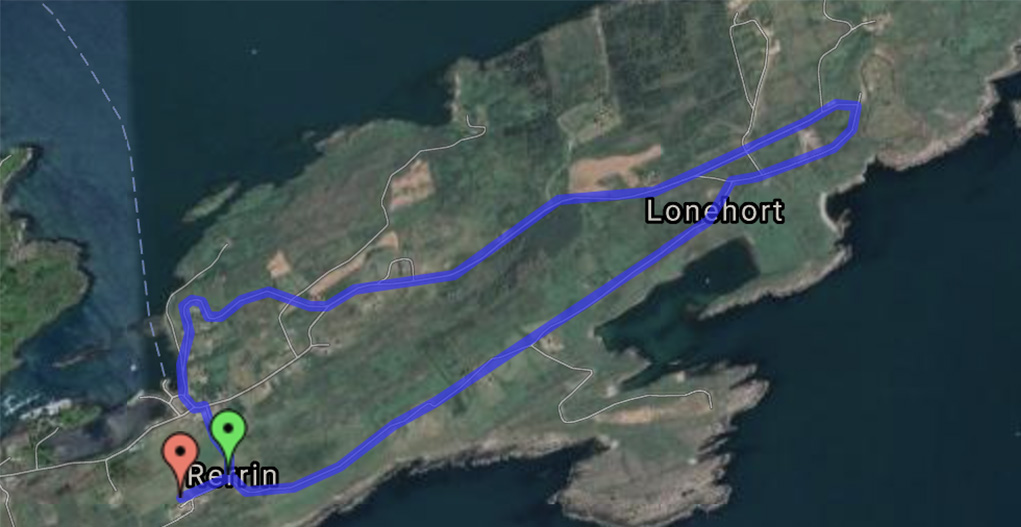 The Bere Island parkrun, which is on the Wild Atlantic Way offers spectacular scenery of Bantry Bay with a route which takes in a Bronze Age wedge tomb, remains of a Viking boatyard and a former World War One military battery.