Tune into Bere Island Community Radio on 100.1FM locally in Beara or online here

September 2021
Tune in on Thursdays from 9pm to Blow in Beats on 100.1FM throughout Beara and online.
May 2021
Sunday Mass is once again being celebrated at St Michael's Church Bere Island at 10am, and continues to be broadcast on Bere Island Community Radio.
April 2021
Last Sunday Fit Up Connection
We were delighted to broadcast the Last Sunday Fit Up Connection again last Sunday April 26th with three great performances from Aindreas de Staic, Vincent Higgins and Seamus O'Rourke. The Last Sunday Fit Up Connection will be back on Bere Island Community Radio in the autumn.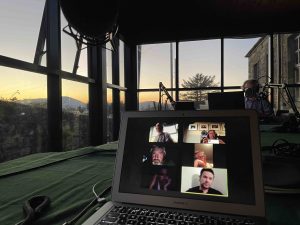 New FM licence issued
Bere Island Community Radio have been issued with their new 100 day licence from the Broadcasting Authority of Ireland and are back broadcasting on the FM network. You can hear us throughout the Beara and Sheep's Head Peninsulas on 100.1FM and as always you can listen to us worldwide online.
January 2021
Bere Island Community Radio are currently broadcasting online only as we await our new FM licence to be issued from the Broadcasting Authority Ireland.
Sunday Mass is celebrated by Fr Noel Spring at 10am and is followed by our Beara and Beyond Programme at 11am. Tune into 100.1FM locally or online here