Lonehort Battery Tours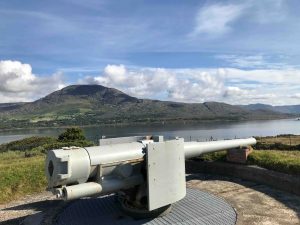 National Heritage Week 2023

Tuesday 15th August 
Scanning Day: 9.00am to 5.00pm at the Projects Office, Bere Island
In 2023 Bere Island Projects launched their Community Archive as part of the Irish Community Archive Network. We are asking for your help to share any old photos or documents you have relating to Bere Island so that we can share them on our community archive in order to protect our island heritage for future generations. We will also provide you with digitised copies for your own family records.
Bring your documents and photos to the Bere Island Projects Group office to be scanned and digitised. Call 027 75099 for details.
Friday 18th August
Antique and Vintage Bottle Collecting with Chris Sullivan
6.30pm at The Bere Island Heritage Centre
Chris Sullivan will display his collection of antique bottles which he has mostly collected on the East End of Bere Island over a period of almost 50 years. The bottles are mainly domestic, medicinal and alcoholic containers and are principally the product of the British Admiralty's occupation of Berehaven, as a Treaty Port, up until 1938. They are mainly Victorian in origin and most probably date from the 1830s to the 1930s. Chris will give a talk on his own collection, and will give advice on how to identify and date old bottles. If anybody has an old or rare bottle bring them along and Chris will help you identify them. He will also give advice on starting collection of old artefacts, which will be particularly aimed at children to encourage them to start a historical collection of their own.
Bere Island Ferries leave Castletownbere at 6.30pm and return at 8.30pm. 
For ferry times see www.bereisland.net
Saturday 19th August
The Defences of Lonehort Bere Island: Vikings, Martello Towers and a World War One Gun Battery
1.00pm to 3.00pm – meet at the seating area south-west of Lonehort Battery (look out for the flags!)
Join us to celebrate National Heritage Week's Wild Child Day and hear about the defences of Lonehort, Bere Island. From a Viking Harbour to a Martello Tower and the later World War One Fortifications. Local historian Barry Hanley, a licensed tour guide, will start the tour at the Viking Harbour, and as we walk the short distance to Lonehort Battery, he will tell the extraordinary history of how a small island came to be one of the most defended places in Europe. Come dressed in costume, either as a Viking, a Napoleonic era soldier or from the battlefields of World War One! Call 027 75099 for details.
Bere Island Military Heritage Festival
Saturday 16th and Sunday 17th September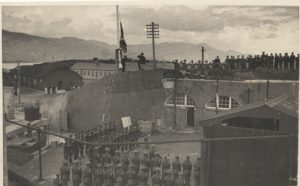 Bere Island Projects Group will hold a Military Heritage Festival which will conclude their programme of events for the Decade of Centenaries and celebrate the island's military heritage and its role during the War of Independence.  The group plan for this festival to become a yearly event, celebrating all aspects of Bere Island's military heritage, from the construction of Martello Towers in the late 1700s to the presence of the British Admiralty and US Navy during WW1 and the War of Independence.  For details contact 027 75099 or email bereconservation@gmail.com