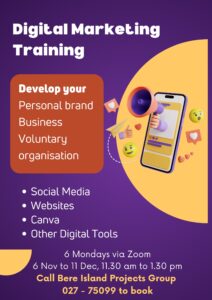 Bere Island Projects Group will be hosting a Digital Marketing Training course for anyone with an interest in learning more about the digital arena, whether a business owner, or otherwise. The course will cover all the key digital tools, including social media (Facebook, Instagram, TikTok and Twitter), websites, Canva, creating video, email marketing, blogging and much, much more. 
The course is exclusive to the 7 West Cork Islands and will take place online from 11.30am to 1.30pm, for six Mondays – starting on Monday 6th November and ending on Monday 11th December. The Zoom link will be issued the Friday before the training begins. The course is free to all participants.
Please note the course is for island residents only. To register and book your place, call BIPG on 02775099.