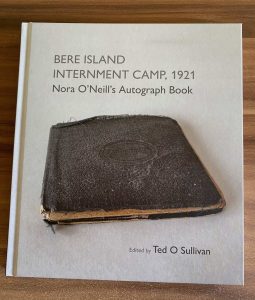 Bere Island Internment Camp 1921, Nora O'Neill's Autograph Book by Ted O'Sullivan is now available to purchase from the Bere Island Heritage Centre and Murphy's Shop, Rerrin priced €20.
The first internees arrived at the Bere Island Internment Camp in April 1921 and were a diverse group of men comprising of poets, writers, intellectuals and committed War of Independence volunteers, including Professor Alfred O'Rahilly, Peadar Ó hAnnracháin, Dr Jim Ryan and Pádraig Ó Siochfhradha (An Seabhac). The Bere Island Internment Camp closed on 10th December 1921.
Support for and contact with the internees fell to the women of the local Cumann na mBan, one of whom was Nora O'Neill, Captain of the Castletownbere company of Cumann na mBan. Over forty of the internees signed an autograph book for Nora. Ted O'Sullivan's hardback book features short biographical sketches of each autograph writer, along with a biographical sketch of Nora O'Neill.
The book is published with the support of Cork County Council.
Ted O'Sullivan is also the author of Bere Island: A Short History.