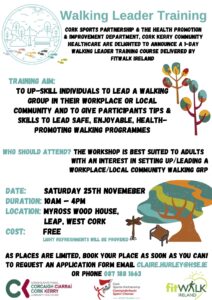 A fitWALK Ireland one day Walking Leader Training course will take place on Saturday 25th November 2023 Myross Woods House, Leap, West Cork
The Health Promotion and Improvement Department, Cork Kerry Community Healthcare in partnership with Cork Sports Partnership are delighted to announce a 1-day Walking Leader Training course delivered by fitWALK Ireland
As part of the Health Promotion and Improvement's commitment to improving staff health and wellbeing, staff are invited to attend a one-day Walking Leader Training course delivered by fitWALK Ireland. The primary aim of the training day is to up-skill staff to lead a walking group in the workplace setting and to motivate colleagues to become more physically active through walking. The workshop will give participants tips and skills to lead safe, enjoyable, health-promoting walking sessions and programmes in their workplace.
This training is FREE of charge and will involve a mix of indoor theory sessions and short outdoor practical elements so you will be expected to participant in some walking session throughout the day. Key content includes – physical activity guidelines and walking – format of a session (WarmUP, Workout, WarmDOWN)- group management (tactics for different abilities)- programme planning – safety issues (duty of care, screening, walking gear, insurance, etc.)
Who should attend? The workshop is best suited to people with an interest in setting up/leading a workplace walking group.
Date: Saturday 25th November
Duration: 10am – 4pm
Location: Myross Woods House, Leap, West Cork
Lunch: Lunch and refreshments included
Please Note: Before committing to the training, it is important to remember that the aim of each course is to have a panel of trained leaders who will organise walks on a regular basis for their workplace setting.
As places are limited, book your place as soon as you can! There is a limit of 2 staff members per organisation.
To register please complete the application form and send to Claire.Hurley@hse.ie